Blog
Being Sick Is Not Cheap!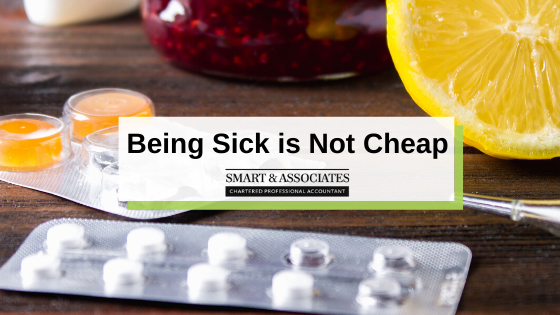 On December 23, I felt the tell-tale sign in the back of my throat that I was coming down with a cold. It couldn't have come at a worse—or better—time. My family was home for Christmas but the office was closed for the holidays, so at least I was able to take those necessary naps to get better.

However, all that rest didn't help enough. I finally took a trip to the walk-in clinic to get a prescription for a nasal and eye infection.
Being sick is not cheap.
It not only cost close to $100 to purchase all the different over-the-counter remedies and the prescription, but it also took more than two weeks to recover, which cost me valuable productive time.
Over the holiday break, I like to do a year-in-review and set new goals for the upcoming year. So far, I have not accomplished much.
Recovery mode & banking on wellness
I am amazed at how little energy I still have. Is it because I still need to rest or because I have been resting too much? I did recently return to the office for a couple of hours to get one foot in front of the other, and so I wouldn't get too far behind.
I am learning to be far more gracious to myself when I get this sick. I allow for a lot of down-time and then slowly re-engage in my regular activities once I feel better.
And while it was hard to miss out being at Silver Star Mountain on Christmas Day, experience has taught me that other great ski days await!
My body has the final say when it comes to all those high-achieving goals I set for myself. That's why I continue to learn how to eat better, to rest more, to get my exercise daily, and to find ways to reduce stress.
Claiming medical expenses
Despite prescription costs, there isn't any medical expense credit worth managing for tax purposes.
The first 3% of your next income, first sets the "threshold," so if my income is $30,000, I would need more than $900 of medical expenses to get a 15% medical credit. If I spend $1,000 on medical costs —$100 over the threshold— then I can claim a $15 tax savings.
I'd rather be healthy than spend $1,000 on medical expenses to get a $15 tax savings. Also, health supplements do not qualify as medical expenses, so all that healthy stuff I buy to keep my body healthy does nothing to save me money on my taxes.
I am grateful to live in Canada, where I have access to medical care. I also know that it's inevitable that a winter cold is going to find me and that I need to invest in self-care and rest during that downtime.
Now that it is the start of 2020, I hope that I am over the worst of this winter cold/infection and will be ready for this upcoming tax season.