Blog
Your Accountant Can Screw Things Up!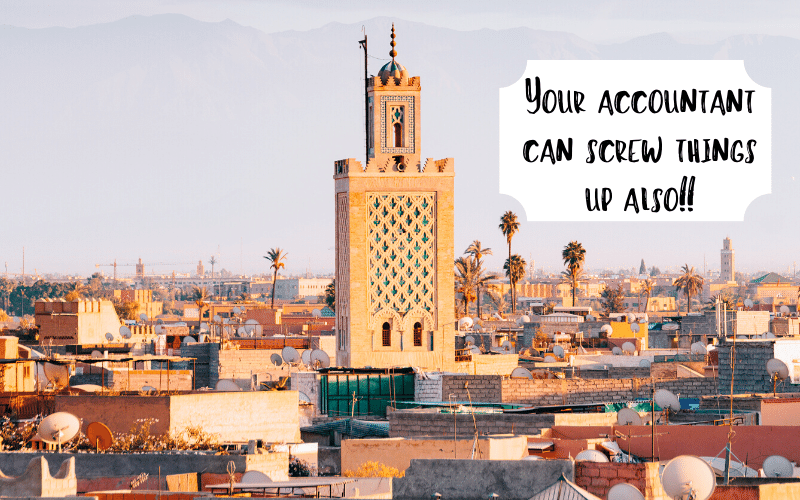 Personal spending habits can impact a lot of different aspects of your financial health, wealth or plain old fun.
Being self-reflective on these habits and how to improve on them or maybe simply to learn to forgive oneself when you screw up may be the better lessons.
My current, stressful life lesson. My husband and I are planning for a holiday adventure in Morocco this fall. I like to be adventurous and have done a lot of research into this country so we can explore, be adventurous and get off the beaten path without always being in the perceived safety of a guided tour.
As we are organizing our adventure, I want to book a pricier hotel in Marrakesh for our mid-holiday treat. The frugal part of me is researching and searching for the very best online price for this hotel and I think I found it. Rather than book it right away, I actually show restraint and hold back for a couple days so we can see if this non-refundable booking might be covered by our Visa CC insurance (it is not). My husband and I talk about our risk-point in booking through this non-refundable online discount hotel booking company and decide that it is worth the risk – so I go ahead and book the hotel and then the painful life lessons begin.
The room rate advertised does not include local taxes or fees. The non-refundable charge goes through my credit card and when I realize my booking does not show the detailed information on these local taxes or fees I try to contact the online business. First I tried to call (twice) and was on hold for far too long so I tried to contact them via their support email. Three emails letter, my panic of being scammed was at high alert. During this time, do I realize the one BIG mistake I made in this non-refundable risk assessment was not simply Googling for the general public feedback on this company, which surprisingly was NOT GOOD. I panicked some more. I called my credit card company and I cannot do anything at this point as this online discount booking company has up until the day we are to check into this Marrakesh hotel to provide the goods (the hotel room). I am truly worried that my husband and I will show up at this hotel in September without a room reserved. So here are the next steps that I have taken. I email the hotel directly and have explained my predicament, hoping that they might be able to confirm that I, indeed, have a reservation. If I do, then I can relax. If I don't, I still have several months to expend needless energy to get this discount hotel booking company to prove they have reserved my room. In now researching even deeper, I learn that my membership to this hotel chain actually has a price match guarantee – I could have booked this room directly with my reputable hotel chain without all of this stress. See not all lessons are easy to learn. Maybe when all is said and done, I may be paying more with the hidden fees with this discount hotel booking company. I am having to realize that even before I have boarded the plane to Morocco that I already have a withdrawal from what my husband and I put in our "f*ck it budget" when we travel.
What makes me angry towards myself is that I didn't research deeper, I missed some critical research steps and this will cost me some money and definitely time and bruising of confidence. However, there is a larger part of this self-reflection that will still push on being adventurous, to try out new things, new resources as I believe the bulk of online business owners are good. I need to remember these travel, life lessons so I can be better at evaluating the risker ones that I do not want to be part of.
POSTSCRIPT
The hotel has responded to my email and has confirmed that they have our reservation – phew! The hotel has given me the detail information on the additional taxes and fees that the online discount reservation company was not able to do (not at all impressed). What has this ultimately cost me? Maybe about $80 in the lost price-match guarantee the hotel has plus my time and stress in dealing with the poor customer service online discount hotel booking company.